Information
Modern Woodmen donate to Prairie Hills Transit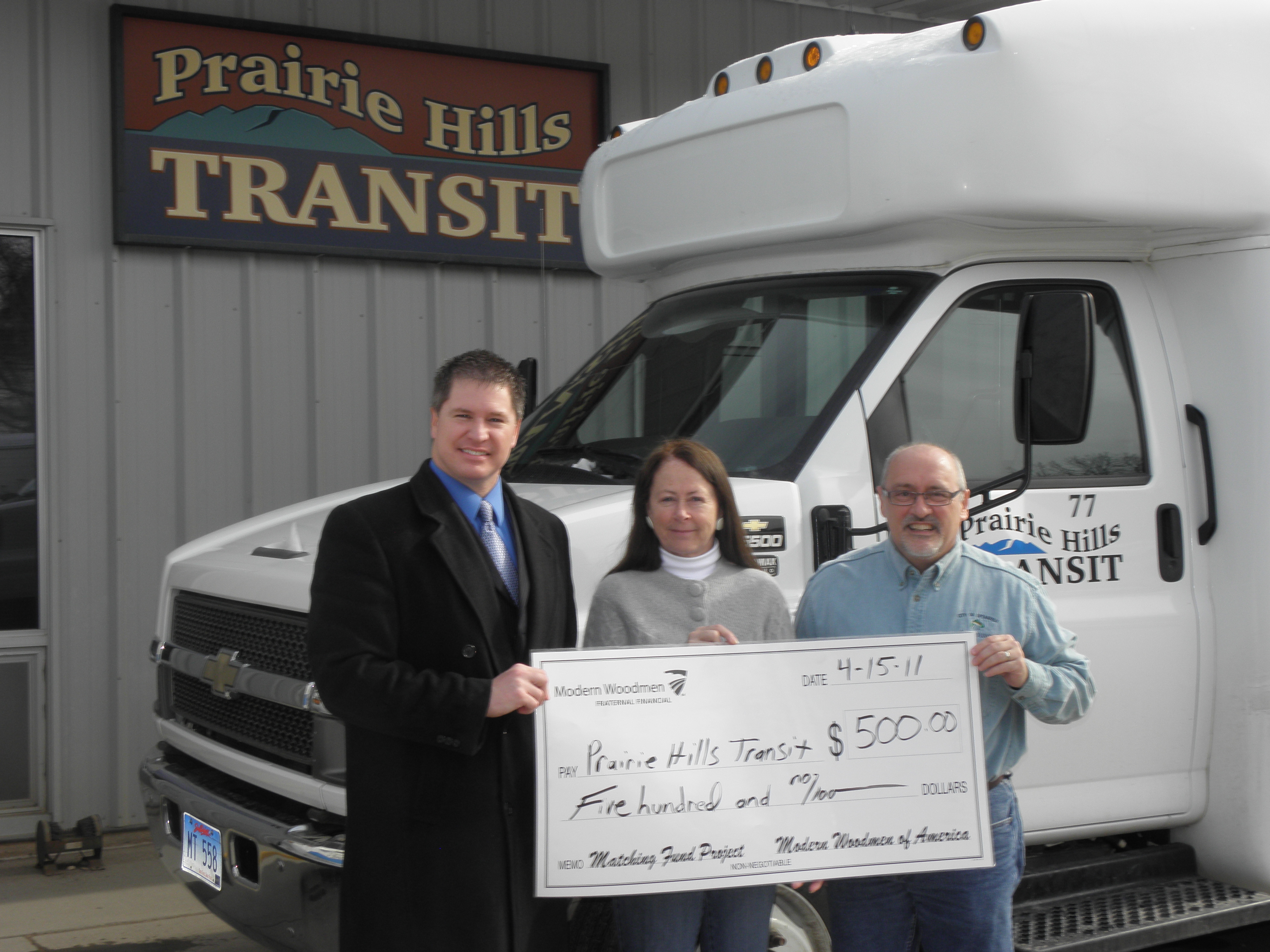 Rodney Bechtold of Modern Woodmen, left, presents a donation of $500 to Prairie Hills Transit Executive Director Barb Cline, center, and PHT Human Resource Director Paul Young. The money kicks off fundraising efforts for a landscape project at PHT's new regional facility in McGuigan Ranch. Anyone interested in donating for trees/shrubs in honor or memory of a loved one may call Sue at Prairie Hills Transit, 642-6668.
Spearfish Modern Woodmen of America members donated a $500 Rockingtree Landscape gift certificate to Prairie Hills Transit as a kickoff to the nonprofit company's landscaping project for its new regional facility on Tumble Weed Trail in Spearfish.
The donation was part of the Modern Woodmen's Good Neighbor Program, a nationwide program that gives Modern Woodmen chapters across the country $500 for hands-on repair and community beautification projects. Nearly 500 such projects benefit communities in the United States annually.
For Prairie Hills Transit, it's the beginning of a project that will add beauty to the site where the new facility sits in McGuigan Ranch near Exit 8. PHT plans to move in mid-May to the new location that will house a vehicle fleet of more than two dozen buses, vans, and the company's limousine and trolley, as well as offices for administrative and dispatch/scheduling staff, and a ticket depot for Jefferson Lines bus company. Another portion of the building will be dedicated to an extended-hours state-certified daycare.
As the beautification project continues for Prairie Hills Transit, community members, businesses, and riders or their families are invited to get involved by considering a donation to help purchase trees and shrubs for the site. Donations can be made in honor or memory of loved ones. Call Sue at 642-6668for more information on that project.
Prairie Hills Transit, a United Way agency, has been providing public transportation in Spearfish since 1989, with services extending to more than a dozen other communities over the years. For more information, go to www.prairiehillstransit.org.
Modern Woodmen is a tax-exempt fraternal benefit society that sells life insurance, and annuity and investment products, not to benefit stockholders, but to improve the quality of life of its stakeholders – members, their families and their communities. This is accomplished through social, charitable and volunteer activities. Annually, Modern Woodmen and its members provide more than $23 million and nearly 1 million volunteer hours for community projects nationwide.
* * * * * * * *
We would like to thank everyone who stopped at our booth at the Spearfish Optimist Home Show March 5-6. It was great for us to get to visit with riders, potential riders, and members of the area communities. We welcome any opportunity to share information about the services we offer.
And thank you for supporting the Spearfish Optimists Club in their mission to help the youth in our area ~
Please feel free to check out our website or call us if you have questions about any of our transportation services … for seniors, youth, general public, nutrition, medical appointments, airport shuttles, or special events.