Contact Us
Phone: 605-642-6668
605-347-0086 in Sturgis;
877-673-3687
Fax: 605-642-6434
Address: Prairie Hills Transit
Regional Office and Dispatch Center
2015 Tumble Weed Trail.
Spearfish, SD 57783
Business hours are Monday through Friday, 7 a.m.-5 p.m. An answering machine is available for after-hours calls. Weekend messages will be received on Monday morning. (Please leave name, address, phone number and date of needed ride or cancellation when leaving a message.)
To Book a ride, or for scheduling information:
* Call 605-642-6668 or toll-free 877-673-3687 (See note above about answering machine.)
* E-mail Dispatch and Scheduling: Dispatch
* Schedule online with ride request form (see Request-A-Ride section)
* Or stop by our office located south off I-90 exit 8.
Rides must be scheduled at least one business day in advance. We may not be able to accommodate same-day requests, so please plan ahead.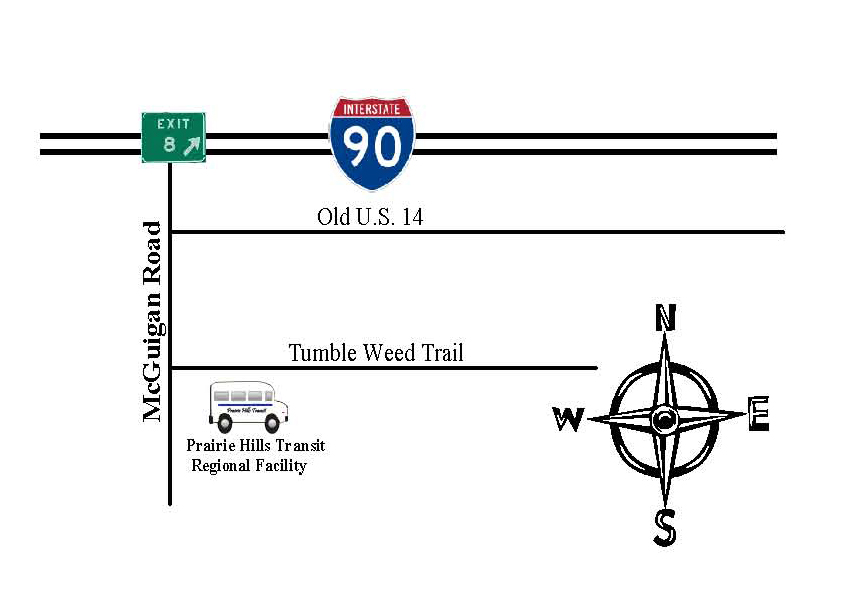 ADMINISTRATION
Executive Director, Barbara K. Cline
Operations and Information Director, Lisa Johnson
Human Resources Director, Bob Wilson
Finance Director,
Revenue and Grant Procurement Specialist, Sue Sperl-Ames
Fleet Maintenance Supervisor, Ron Cline
Community Media Coordinator, Keighton Hatten